What is meant by business analyst
From a UXler who set out to meet business analysts: My visit to the BA & Beyond conference

From Susanne
June 6, 2019
25 minutes to read
It took place from March 27th to March 29th, the BA & Beyond conference in Brussels and Amsterdam.
As a UX enthusiast, I am therefore outside of my comfort zone in our sister discipline of Business Analysis (BA). Arriving at the conference hotel on the eve of the conference, I have the great pleasure of getting to know the international speakers. And as it is often the case, you mainly talk about the cultural background you bring with you. Many at the table have a multicultural background, I wouldn't have realized that I belonged too? With the mostly extroverted people at the table, I'm full of anticipation for the next day's lectures.
Start of the strategic business analysis in Brussels
And the day starts early because registration starts at 8 a.m. At 9 a.m. there is a welcome greeting from the organizers and from 9:30 a.m. the first presentations can be heard.
The first session is about strategic business analysis. Matt Thompson, Frank Lemmens and Adrian Reed present three aspects of strategic business analysis. Matt searches for the reason behind what is happening on the surface and the connection between cause and effect. Frank uses the combination of modeling with storytelling to sell his new architecture internally. And Adrian introduces a real obsession when it comes to searching for problems and depicting the problem space in order to prevent a product from being disoriented. What is interesting about the mode at the conference is that all three speakers present one after the other without the audience asking questions. Only in the joint question and answer session, in which all three speakers are on the stage, questions are asked by both the audience and a moderator. At first it seems strange to me, but I think the concept worked. In this way, all three speakers can answer common questions, as their talks go well together thematically. The moderator is also well prepared.
Looking for the definition of a business analyst
During the coffee break, I use the time for a little chat with Lynda Girvan. What I didn't know is that Lynda is something of a pop star in the business analytics community. But it is a lot of fun to discuss with her. She is promoting her book at the conference and some of the beliefs that she formulates are also those that I repeat every day like a prayer wheel: Agile is a mindset, not a case of methods. If you learn a new great method ("all these fancy new methods"), don't forget the tried and tested. Do the damn analysis work! Don't just accept business demands. Something still has to happen between hearing a request and implementing it, that is precisely what analysis work is!
As an obvious exotic at the conference, I now dare to ask the simplest questions in the world. Simple question number one: is business analysis and requirements engineering the same thing? If you have always wondered that, here is the wonderful answer from these great speakers from the business analysis community: No! Requirements engineering is only part of business analysis. Anyone who deals so much with the problem area of ​​the customer, and by that the company that offers the product is meant here, cannot simply be a requirements engineer, I am told. Illuminating stakeholder networks and making their different needs explicit, clarifying and presenting the conflicts is a critical success factor for Adrian Reed. We cannot build products with different goals. Clear as day! Our (evux) approach is the product vision for it, Adrian's suggestion is the rich picture. This modification of the concept diagram without specific syntax for the visualization of the stakeholder needs with regard to the product across processes and procedures seems to me to be a very helpful tool. The only level that I miss is the persona level, i.e. the interest of the primary persona in contrast to other end customers. But since we are not syntactically or semantically limited here, these can easily be combined with one another.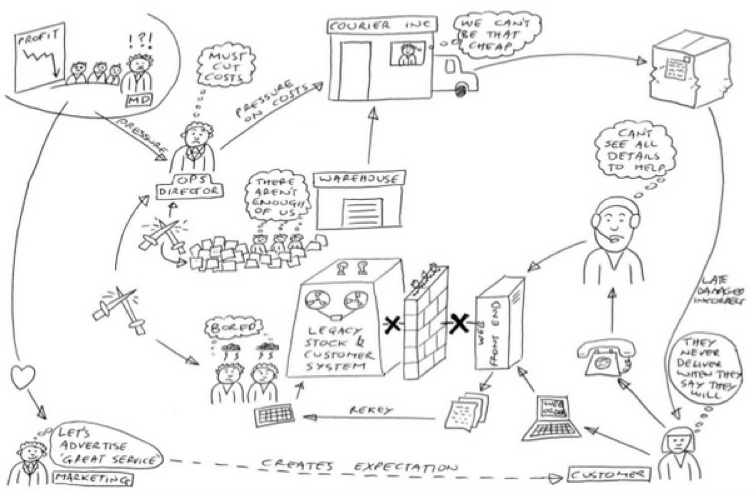 illustration 1
A rich picture, which exemplarily shows the problems of the various stakeholders in a department store service processing. Shown by Adrian Reed at BA & Beyond
I was pretty excited that the entire community actually knew this tool. When Adrian asked the audience, it was like asking the UX community if people knew about user tests. However, I have never seen a rich picture in projects with customers. How many products would that be good for? I find Adrian's memory of formulating clean problem statements based on supporting questions just as valuable:
Which problem should / want / have to be solved?
Who does the problem affect (stakeholders)?
Why is that important?
What would a successful solution bring and how do we know that it is successful?
I would just add the question of whether the problem is really a problem and how do we know that. ?
I ask simple question number 2 during the coffee break: How do you work with UXers? Ha! The answer was pretty. "We prefer to do it ourselves." True to proper critical thinking, I ask: "Why?" "Yes, you only need them towards the end and then they always roll everything up again." "Did you wonder why they roll it all up again? ..." You know where the conversation was going.
Agile is also a "hot" topic in Brussels
After the coffee break, I go to the track "Agile beyond the hype". It's good to see that business analysts also feel challenged with the agile concepts. Business analysts, too, have a holistic claim like UXler and find it difficult to fit into agile procedures in practice. It takes a few years of professional experience before the penny drops, and my interlocutors agreed on that. Overall, discovered difficulties can be traced back to failure to observe the agile manifesto. Jan Legtenberg reports on locally separated team members or teams that work closely together, that operate across the building and are then merged. Suddenly a lot more works - oh wonder! The underlying logics of SCRUM methods that Pieter Hens is talking about are formulated very flat, little psychological background knowledge and I have the feeling that the phenomena would be much easier to explain in e.g. retrospectives. From my perspective, Scrum remains a project management method, nothing more. All the techniques that I use in it satisfy sensible psychological principles, which should be chosen as in other workshop methods in order to prevent biases and group phenomena. Maybe I have to rate this talk differently. Since business analysts are not as influenced by psychology in their knowledge building as we UXers, the level may be okay. But to realize that it is no magic in a retrospective to give everyone the space to write their own thoughts on a Post-It before everything is put together, so that your own thoughts do not die, is not so difficult for me. Otherwise - and this can easily be seen in meetings and workshops - participants can lean back when a monologist is talking and simply shut up. The social hammock (social loafing) is waiting for a cozy nap ...
Time for (self-) reflection: If there were so many business analysts ...
This session is followed by the lunch break. I'm a little happy about that. While my two brain halves are arguing somehow whether they are upset about the reality they are otherwise experiencing or want to continue to be curious about this conference, I'm actually a bit hungry ... After the lunch break, the sponsor tracks are. To be honest, I don't quite understand what this is about. I might have been interested in companies from Switzerland, but somehow I don't feel attracted. I use the hour to think a little and leave the conference hotel. As I go for a walk, I wonder if I've really ever met a "real" BA. Yes, I would think of one or the other, but what the conference shows me, what a business analyst actually is or should be in the self-image of the professional community? Difficult. The conversations here are great, the lectures are good, the tenor is fantastic. Business Analysts, where are you? Honestly, if there were more of these stereotypical business analysts, it wouldn't need that many UX people. Then we could also take care of the things that we are really familiar with, such as user research, strategies for primary persona-secondary persona use or actually interaction design. For example, there is often no time to work out several possible solutions because we take on a lot of the analysis work. Often we have no choice but to start with a fire and forget interaction design. And this nonsense of "fail fast and fail often" has to stop! Either we make it clear to ourselves that we want to experiment at the beginning of a concept and learn something that has nothing to do with failure, or we leave that. Then the first prototypes wouldn't contain every piece of crap that we think of Know even when you try it out that this is crap. Unfortunately, that's something I heard too often in the lectures. Who wants to fail? What is that supposed to mean? We don't want to fail at all. Sometimes we just have unanswered questions and then we just have to make them visible.
Expert trap: Misconduct in projects, we UXers can do that too
In the last track before the keynote, I watch the presentations on soft skills. And as expected, Christina Lovelock will hit the audience excellently with "When BAs go BAD". She charmingly holds up the mirror to the experts. Pedants, mavericks, superior, "I'm only BA here", "I've always said it", "There are us and the others", "Everything is bad", myopia - all of them behavioral patterns or attitudes that affect the work of a business. Analysts according to Christina worsen. In the run-up to the conference, Christina had conducted a survey as to whether one knows bad behavior among colleagues and to what extent one observes this in oneself. And the result is clear: You are freed from it yourself, but the others ...? It can be particularly difficult to touch one's own nose, on the one hand because the ability to self-reflect is not the most pronounced competence of us humans (in my opinion) and on the other hand because it is much easier to show the inadequacies of the other person. Christina hits the mark with the topic and suggests changes in behavior, counterparts to the misconduct, in which the reflection of one's own work in the light of one's own professional career occurs. That is especially thought-provoking. If more experts were to ask themselves regularly whether they are proud of what they have produced, they would probably also ask themselves more often, why perhaps not ... After the presentations of the session we receive another card with the negative on side A Pattern, on side B the positive patterns are shown. And one thing is clear: the whole thing can be mapped 1: 1 on UXler and probably on every subject matter expert. I congratulate Christina on her lively talk and share my thoughts on it with her. Then we slowly go back into the lecture hall and prepare for Lynda Girvan's keynote.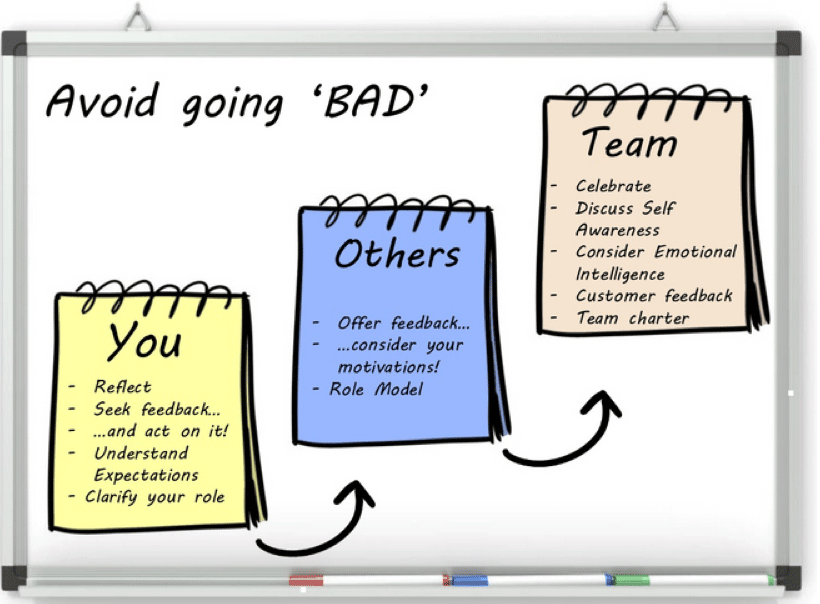 Figure 2
Rethink your own behavior in order to be better for the product and the team - according to Christina Lovelock at BA & Beyond
UX as an important secondary skill
Lynda on the big stage: It is easy to see from the filling of the hall that it was a good idea to put the keynote at the end of the day. Everyone persevered, even though I feel really tired. However, Lynda's energy still seems to be fully there? "The agile Business Analyst" - your talk is based on the content of your book with co-author Debra Paul (https://www.amazon.com/Agile-Business-Analysis-Debra-Girvan/dp/1780173229). Lynda emphasizes that, unlike many other authors, she is not a full-time author, but actually works on projects. An important point of credibility. I notice that in myself that I do not always take so-called practical lectures from trainers, instructors and even professors when I think about how their content should be implemented in reality. I particularly like two slides from Lynda's lecture. On the one hand, she addresses "waste", what is that in IT projects? Among other things, «waiting» and «producing on the stockpile». Two phenomena that I see all too often and sometimes I fall into the trap myself ... And here, too, it is simply striking: we UXers are in a value chain with business analysts. If we are already producing a lot of information on heap through monstrous prototypes and detailed designs at the beginning of a project that is supposed to achieve an MMP (minimally marketable product), the project team needs a lot of time to correct mistakes because the problem is now better understood to get out of your mind again. UX has a holistic approach. We have to let go of it, especially in an agile context, it is window dressing. What isn't finished shouldn't look finished.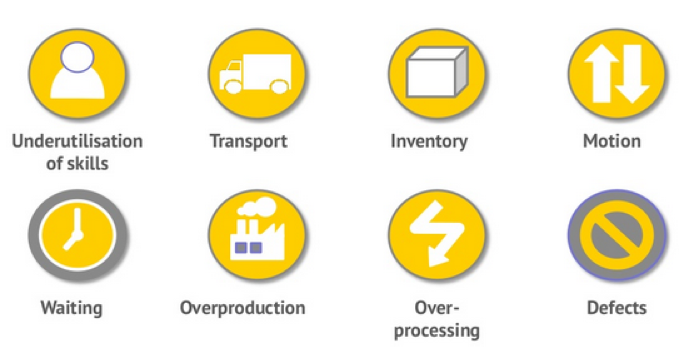 Figure 3 Lynda Girvan in her talk "The agile Business Analyst" on waste
My aha moment is then probably in a different place than that of the rest of the audience. Namely when Lynda puts on her slide of the T-shaped business analyst. If we count vertically, i.e. the core disciplines, there are three task areas that revolve around the further development of requirements, i.e. understanding the problem, and only two around the modeling, i.e. explaining the solution. Hm. Is that a coincidence? I interpret freely: Business analysts should care (at least) as much about the problem as they do about the solution and look at the context in which the solution is created. While the UXler searches for the context of use, the BA looks for the system context and the context within the company. (I am reminded of Adrian's lecture, in which he discussed the rich picture.) In the horizontal we find the key word that I listen to?: User Experience. Yes, it would be good if we had a common vocabulary with business analysts, if they could differentiate between prototypes and mock-ups, wireframes from design studies, a usability test from a contextual inquiry, etc. Since business analysts are often "story owners" , it is important that they are able to coordinate design and concept work and to accompany them with technical analysis. However, this does not have to degenerate into the fact that you create entire concepts yourself. Then analysis or modeling fall by the wayside. Our difficulty as a UXler is, however, that it looks so easy what we are doing. If we teach young, aspiring BAs the basic UX vocabulary, there is a risk that results will get worse first before they get better. That's where it strikes, the only thing we can't learn from anyone else: our own experience. That is why I always hope that, in addition to training, there are also specific projects and plans with the specialist skills occupied, so that training can be reflected in context.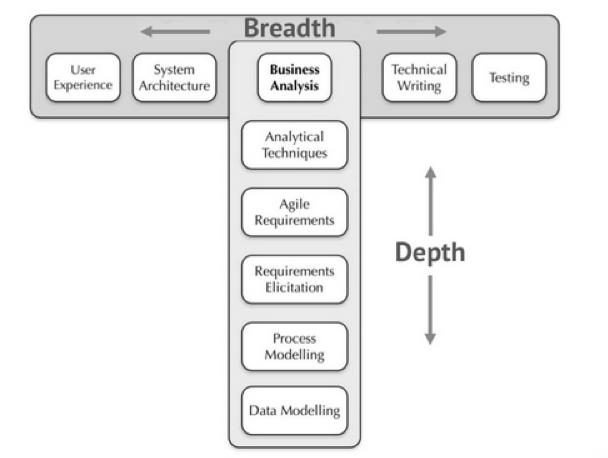 Figure 4Lynda Girvan in her lecture "The agile Business Analyst" about the T-shaped Business Analyst
After Lynda's presentation, I am pumped up with a refreshed agile mindset and am convinced that I will soon give the lecture "The agile user experience specialist" and I am a little sad that I have to get on the train to Amsterdam. Tomorrow is the second day of the conference there and finally my lecture with my ideas about what should be put in the user experience box of business analysts.
Second conference day in Amsterdam, project reports and exciting workshop formats await me
The starting shot in Amsterdam is like in Brussels. Coffee at 8 a.m. and start at 9 a.m. An employee from Le Blanc Advies, a sponsor of the conference, will give the very personal welcome. She explains her path from process designer to business analyst. Interesting how the mind opens when you take a new perspective. At this moment, I really hope that designers feel the same way when they get into the field of user experience ...
From ad hoc knowledge communities to specialist communities in the company
The first track begins with the motto "building your BA community" and two very ambitious women who present their journey towards a more regulated entry into the BA activities of their company. The company had grown so rapidly within a few years that they had gone from "no idea what you need business analysis for" to a 50-person business analysis department. Activities were ad hoc, poorly standardized and it was not clear what the company expects from business analysts and what it is selling under it.Maja Golubic and Mateja Blazevic are very authentic and even if their work is still at the beginning, they have already achieved a lot - including exchanges between the BAs. Later in the day I will discuss with them about the BA community in their country, Croatia. Apparently there aren't really any events and conferences there. I ask if there is something like that in Germany or something, because I don't know my way around. My interlocutors here agree that this is not really the case. My google actually doesn't bring me any more hits, but I haven't invested a lot of time either. Nevertheless, the conference also seemed very UK-heavy to me.
After the entry of the tough Croatians, Tom Colpaert follows, who has dedicated himself to a very demanding topic and talks about knowledge transfer. Many of us know that too: "Hey, here is a project. Become an expert for this in 2 hours! " ? This is often more of a Herculean task. But here, too, there are systematic approaches that make the whole thing easier. The questions that are answered one after the other are:
Who should get the knowledge? (Individual vs. group)
What knowledge is needed? (also organizational knowledge, knowledge about stakeholders)
Where is the knowledge contained? (mostly people)
What knowledge is completely missing?
How much effort do we have? (Tom names a number of evaluation factors such as the availability of knowledge carriers, impairment of other activities, etc.)
Which transfer method is the right one (sharing session, reading, test cases, reverse engineering, etc.)
How exactly do we go about it? (Schedule - and here: treat it like a project!)
I feel very good after Tom's talk. Every problem is manageable if you make a plan based on the simple questions: where am I now, where do I want to go, why do I want this and how precise are the small steps between today and later.
Here in Amsterdam the conference mode is different than in Brussels. Questions are asked directly after the talks and a workshop part follows at the end of the session. We start with a World Café after the first session. The challenge is that a fair number of participants find it uncomfortable to speak English. But that can also be overcome. The World Café itself isn't that exciting for me, but it's refreshing to see other moderators at work.
In the break afterwards, I get into a conversation with the two Croatians and again with employees from Le Blanc Advies. From Joost Gordijn, also from Le Blanc Advies, one could learn on that day how a sponsor could behave at a conference. He greeted each speaker personally, thanked them for their contribution and behaved as a great host. We also laughed a lot together. If that is not an important point, despite the seriousness that we show when exchanging knowledge and experience. ?
Enabling innovation: Sure, with UX at heart
The following session is titled "enabling innovation" and the second talk belongs to me. However, Antonio González Sanchis makes the start. Admittedly, I don't take in that much in the lecture because my thoughts revolve around my own word-finding problems. Believe it or not, I always look forward to my talks, but I'm still nervous and then only a strong focus helps and it almost fades out my environment ... But what I have kept is that Antonio tidies up a bit with methods such as design Thinking and Agile Inception. My personal problem remains: For decades we have been revolving around the first or early phases of brainstorming, starting with Osborn in 1953. The variables of the ability to connect "good" ideas to the usual implementation in the organizations are ignored. The guarantee for slow failure (as a contrast to targeted experimentation).
Now I'm the next. In the minutes available to me, I try to explain how - from my perspective - business analysts can pimp their method cases in order to end cloudy discussions and to show in prototypes the consequences of the previously discussed definitions. What was interesting about the story was that we at evux made assumptions in advance as to which slide the participants would be photographing and thought it would be the schedule that represents the preparatory work for the storymap. But then it was the definition of what UX is not - and what it is. Hm, so we are not yet at a basic level of knowledge?
Challenge ideas with "Ritual Dissent"
After the two talks, including mine, there was another workshop methodology round, this time for "Ritual Dissent". An absolutely interesting way to stimulate reflection on your own behavior and the development of solutions based on your own knowledge. We formed a team of coaches in small groups. A guest at the table (came from a different group) presented his problem. That was just one sentence, e.g. "If I am convinced that I know better, then I prefer to do the work alone." Our job as a coaching team was to ask questions that are open and non-suggestive in order to further investigate the problem. The problem provider sits with his back to us. He or she was not allowed to answer. So we asked questions like "What does your team think about doing the work on your own?" "What if you're wrong?" "If you find an aspect of going it alone that you don't do very well, what do you do then? "," If a stakeholder wants to know how the situation is and you are not there, what happens then? "," What if you get sick? " ... other problems were dealt with at the other tables. What was particularly interesting was what happened to the problem providers. They became very thoughtful. And really everyone took notes and that without being asked to do so. It immediately occurred to me that this is how we should challenge our concepts and designs. "Kill your own darlings", I can quote my colleague Stefan Wanner here. But this is often not that easy - with this approach, you can collect comprehensive feedback without injuries and personality references, which the recipient also likes to construct, without the sender really intended them. I think it's worth trying out.
"By the way, UX is the future"
But now I'm done, lunch later! Some things after 1 p.m. - for someone who usually leaves 11:30 a.m. for lunch, this is a torture tour. But actually not bad either? A session with a workshop part and the concluding keynote will follow in the afternoon. It is a pity here that some speakers do not stay longer at the conference than their talk lasts. This is really annoying for participants like me, who like to ask something (annoying the woman). Well, the afternoon session is no longer as good as the previous time in Brussels and Amsterdam. Maybe it's me too, but the two talks and the workshop part no longer really pull my curiosity. The keynote, however, again has a little highlight for my UX heart. Damien Braekman presents "Agile Business Cases and Beyond" with his own access to scalable agile organizational forms. It is noticeable that the practice has honed its perception of SAFe and Co. It shows professional competence in an agile context and tadaa: UX is part of it. When he asks the group whether UXers are present, I didn't think everyone would answer. But I had thought that at least ¼ would get in touch. Puff pie, my hand was the only one that stretched out enthusiastically towards the sky. Well, he looked down on the floor and added: By the way, UX is the future. Bam! So when I think back to the T-Shape model of a business analyst that Lynda presented the day before, that will be the secondary skill that business analysts will learn. The professional community has at least recognized the need. I hope that this should also ensure that real UX experts can be identified more easily.
How does your agile project feel?
In the evening it is time for my last simple question: «We talk a lot about agile approaches. How do you feel about them as part of agile projects or organizations? " The range of answers is not surprising, but underlines my perception. The answers range from: "Have never seen a successful agile project." until "It felt like a release." What I hear between the lines - naturally influenced by my own attitude - is the shared conviction that one question remains essential, regardless of where and how software is developed: Why? Why should it be this way, why does the stakeholder want it, why have we always done it this way, why do we do it differently?
The conference ends with a full head and of course a little bit of sightseeing in Amsterdam in beautiful weather. For me the days were great and the trip to the sister discipline was very worthwhile.
back