Can hipsters save the world?
Davos: Can Big Business Save the World?
If you walk along the promenade, the main street of Davos, you can almost get the impression that a charity event is taking place in the city, and not a meeting of 119 billionaires and many corporate bosses and business representatives.
"Let's make the business world the largest platform for change," says a shop that a corporation has rented. Another sign asks, "Is growth an illusion?" - in a bright and curvy neon font that you would rather expect on the wall of a hipster café.
Further down is the "SDG Tent", where topics such as the future of capitalism, sustainable finance or LGBTI rights are discussed in open sessions - all paid for by companies that support their commitment to the United Nations' 17 Sustainable Development Goals (SDG) Nations want to demonstrate.
Sustainability - really this time?
The message the companies want to convey in this way is obvious: We woke up, they shout. Gone are the days when profit came before morality. We care about the environment now. We want to make the world a better place.
But haven't corporations been telling this story for as long as the World Economic Forum (WEF) has been around? But the world is still missing the goals it has set itself - let's just take the Paris Climate Agreement of 2015 or the UN sustainability goals. Will the big corporations really keep their promises this time?
The anti-WEF protesters on the promenade have already made a decision. "Do you really believe that institutions and corporations that have long thought and acted in a certain way suddenly change because they want to be nice now?" Asked Sebastian Justiniano. "I do not believe that."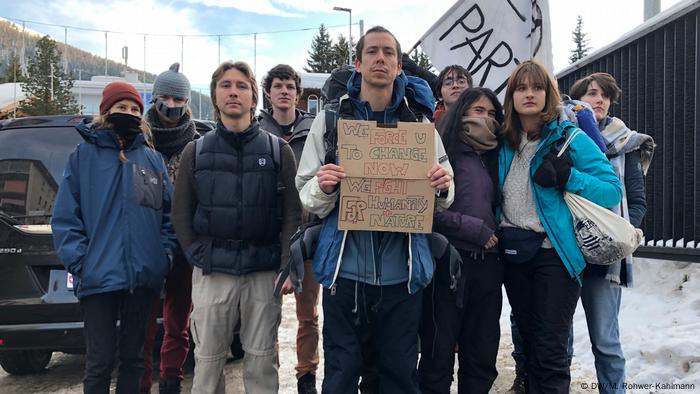 Demonstrators in Davos are skeptical that companies are serious about environmental protection
Change to make more money
Svein Tore Holsether disagrees. He is the CEO of Yara, a Norwegian chemical company whose main business is the manufacture of synthetic fertilizers. Yara is thus part of the agricultural sector, which is responsible for a quarter of global greenhouse gas emissions.
In a quiet corner of one of Davos' chic hotel lobbies, Holsether explains why he wants to make Yara a more sustainable company. "This is an incredible business opportunity," he says. "We want to make a profit, which we then reinvest in order to develop further."
Holsether tells how Yara shifted its strategy to new business areas after the Paris Climate Agreement. The company now wants to help farmers increase their yields so that they need less land - which would then be free for trees that could bind CO2 from the air. And how good this would be for the environment, for food security, for the farmers - and of course for Yara's balance sheet too.
"In recent years it has become increasingly clear that only those companies will survive that are able to adapt their business models to both the challenges and the opportunities," he said.
Green or Broke?
Perhaps, however, companies will soon hardly have the choice of deciding for or against a green business model. The "Global Risk Report" published before the WEF sees environmental problems as the greatest threat to the existing world order. Extreme weather and natural disasters caused by climate change harm the economy.
And even Larry Fink, the head of the world's largest asset manager Blackrock, recently warned company boards: If they are not serious about sustainability, they will soon run into difficulties with financing. Whether such a market-driven change in the economy will happen quickly enough is another question. Yara's CO2 emissions rose from around 10 million tons in 2013 to 16.6 tons in 2018 - despite the new sustainability strategy.
So if market forces act too slowly to make companies more sustainable, what would be faster ways? Some voices call for a fundamental rethinking of the meaning and purpose of companies.
In Davos there was a lot of talk this year about stakeholder capitalism. The concept states that companies shouldn't just focus on generating profits for their investors. Rather, they have a responsibility to everyone who is affected by corporate decisions - i.e. employees, customers and the environment.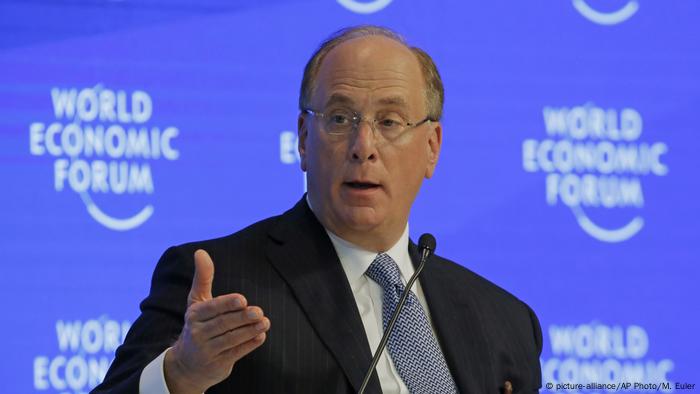 Blackrock boss Larry Fink warns company boards that climate change will also change corporate finance
Can it work?
Economist Mariana Mazzucato thinks the concept is good, as long as it is not just an empty catchphrase. "Given the crisis we're facing - climate, inequality, health systems, and the collapse of the welfare state - we just don't have time to riot," she says.
Governments should rethink how they invest in their economies and, most importantly, what they ask in return for it. Because when a company receives money, it also becomes a stakeholder. She cites the German government as a successful example, which has made public loans to steel companies dependent on their ability to reduce their fossil footprint.
"You have to set conditions," she says. "Companies can accept them or die. We do that in other areas too. Factories are not allowed to employ children. That is what the law says, and those who do not adhere to them have to shut down their shops. Specifications must be mandatory."
However, functioning key figures and test procedures are a prerequisite, according to Mazzucato. This is the only way to ensure that companies adhere to the requirements.
One initiative that develops such metrics is the non-profit World Benchmarking Alliance (WBA). She has compiled a list of the 2000 most influential companies in the world, which together make up half of global economic output. A team of around 50 employees is currently working to classify the companies according to their contribution to achieving the various UN sustainability goals.
The organization provides its benchmarks free of charge. In doing so, she wants to make a contribution so that companies can meet their responsibilities and, if necessary, be held accountable.
"It's like good resolutions for the New Year. We know it's difficult to keep them. It's the same for companies. It's hard to go to the gym as early as February. That's why we need these benchmarks," says WBA boss Gerbrand Haberkamp.
And now?
So are the pretty campaigns for more sustainability just dazzling and diversionary maneuvers? Are companies really ready to act more responsibly? Yes, it seems to be the case with some. Not necessarily because they suddenly became compassionate, but because it makes good business sense.
Are they changing fast enough? No, they certainly don't. The climate scientist Johan Rockström put it this way: "There are some islands of success in an ocean of ignorance."