Which artist originally sang Say Yes?
Chris Squire
Chris Squire biography
Christopher Russell Edward Squire was born in London on March 4, 1948. He made his first musical experiences as a choir singer, where he learned a lot about vocal technique and the arrangement of vocal movements.
In 1964 he was kicked out of school because of inappropriately long hair, which marked the end of his civic educational career. But the London party life appealed to him all the more, which he exaggerated so much that he then had to regenerate for several months in his girlfriend's apartment.
During this time he practiced obsessively on his bass and developed his own playing style, mainly inspired by John Entwistle and Paul McCartney. In 1965 he got the instrument of his life, a Rickenbacker4001 bass, the fourth ever to go over the counter in England. He had a passion for vocals with singer Jon Anderson, and both of them were particularly fond of Simon & Garfunkel.
The two formed the progressive rock band Yes, and in 1969 the first self-titled album was released. The rest is history, and Chris has remained solid in the band's history, which has been characterized by numerous line-up changes, and was the only musician always on board.
Yes achieved its international breakthrough with the album 'Fragile' in 1972, and the LP covers designed by Roger Dean were little works of art. When I first heard the band's complex music in a youth center in my early teen years, I was entranced by Anderson's angelic voice and the extremely intricate song architectures, especially on the opulent triple live album 'Yessongs' (1973).
'Roundabout' could also be heard on 'Yessongs', but the original version is from 'Fragile'. The song is prototypical of Chris Squire's style.
Chris Squire preferred a fairly flat string position, which the strings responded with clearly audible snarling noises. Rickenbacker basses with roundwounds, played with a plectrum, were very popular in the early 1970s. Mike Rutherford of Genesis and Roger Glover of Deep Purple were prominent Ricky players.
Text: Wolfgang Kehle
On the death of Chris Squire in 2015
Chris Squire died on June 27, 2015 at the age of 67 from complications from a rare form of leukemia in Phoenix, Arizona. Save travels, Mr. Squire, RIP.
The band's first album, Yes, was released in 1969, their last to date, Heaven & Earth, was released in 2014. Chris Squire was the only Yes musician to have played on all of their albums. Chris Squire has shaped a unique playing style and sound - always with a plectrum, and mostly with a Rickenbacker 4001 he produced a brilliant sound that was unusual for the 1970s and which became his trademark. Good to hear on this 15-minute video from 1969!
His ex-Yes bandmates also reacted in dismay to his death. Jon Anderson wrote, for example, in a personal obituary:
"Chris was a very special part of my life; we were musical brothers. He was an amazingly unique bass player - very poetic - and had a wonderful knowledge of harmony. We met at a certain time when music was very open, and I feel blessed to have created some wonderful, adventurous, music with him. Chris had such a great sense of humor… he always said he was Darth Vader to my Obiwan. I always thought of him as Christopher Robin to my Winnie the Pooh. We traveled a road less traveled and I'm so thankful that he climbed the musical mountains with me. Throughout everything, he was still my brother, and I'm so glad we were able to reconnect recently. I saw him in my meditation last night, and he was radiant. My heart goes out to his family and loved ones. Love and light… .. Jon "
The following statement was published on the Facebook page of the band "Yes" after his death:
"It's with the heaviest of hearts and unbearable sadness that we must inform you of the passing of our dear friend and Yes co-founder, Chris Squire. Chris peacefully passed away last night in Phoenix Arizona, in the arms of his loving wife Scotty. "
Wyzard, Bassist of Mother's Finest, posted a story on his Facebook page about his encounter with Chris Squire:
"One Last Squire moment… .. I met Chris in LA around 92 '… .. I was playing a gig at the Roxy with Mothers Finest, and after sound check I went to a Thai restaurant to pick up some food… .. I noticed sitting at a table eating with a woman was Chris Squire '…. I usually leave celebrities alone but hell… it was my hero… I had to say hello,…. I walked over and introduced myself as bass player from MF, .. and the woman with him (think it was his wife,) shrieked…. Mother's Finest!… I love that band!…. I told them we were playing at the Roxy that night ... and she says Chris, we gotta go, period .... Chris had this blank look on his face like "who, huh" what '?…. so I put them on my guest list, Chris Squire plus 1… .. how cool…. any way show time the place was packed,…. Herbie Hancock showed up… cool scene… .. in the set when I was doing a bass solo,…. I look down, and right in front of me… .. like 2 feet away was Chris, with a smile on his face, what a moment for me…. as much as this guy has influenced me, for him to make his way to the stage to check me out was a great moment in my life,…. that was the last time I saw him and the wife (I think,) after show was madness and I'm sure he got outta there… .. but that's my story in all it's coolness… .. RIP CS. "
In the following video you can enjoy the band "Yes" live in 2013, still with Chris Squire. The concerts of the 2015 tour, which Yes played together with Toto, were the first of the band that Chris Squire was not there.
Text: Heinz Rebellius
Back to overview
Chris Squire on his equipment
My main bass is the cream-colored Rickenbacker from 1964. This bass even has this typical twang tone when you play it acoustically, i.e. without an amp. He is unique because he has seen quite a lot. Originally it was painted red sunburst (Fireglo), then had tons of stickers on it, and when they all peeled off, Sam Lee, the guitar technician in Chinatown, sanded everything off, including the paint. The body was then natural-colored and significantly lighter.
In another phase I covered the body with silver paper. Sure, the bass had to go back to Sam Lee at some point, who removed the silver paper and finally had the Rickenbacker painted cream. Through all of these procedures, the bass lost some of its wood and weight.
When Rickenbacker wanted to build me my signature model, I told them that they should definitely take this into account. All hardware is still original - except for the tailpiece, which came from a bass that Donovan once heard. The pickups are also original. In the old days you always had a lot of loss of height through the cables. I always turned the treble control fully up and activated both pickups.
Today I play with a transmitter and the compressors also add some treble themselves, so I have to turn my treble control back a little. The bass control, however, is fully open. I recently got 100,000 Brit. Pound for this bass - by my friend, the actor Vincent Gallo, who owns perhaps the largest Rickenbacker bass collection in the world.
He even suggested me a deal that he could own the bass, but I could keep playing it. This is of course a great temptation ... When I play live, I use two different Samson UHF transmitters - one for the bridge and one for the neck pickup, so that both are sent separately to my rack. In the studio, however, I play normally with a good cable. In that case I turn the neck pickup back a little to get the mix sound that's right for me.
I don't like in-ear monitoring at all, I prefer to sing through a normal microphone and use normal monitor speakers. I tried in-ear systems for a while, but that reminded me too much of the 80s. A little much Gary Numan. I only have to be careful when wandering around on stage, for example over to Steve.
<<< Erfahre mehr über Rickenbacker auf der Themenseite! >>>
He has so little bass in his monitor that I wouldn't feel comfortable with it. But most of the time I don't go around much at all, instead stay close to my bass system and the drummer. The old Rickenbacker is my main bass - also live. But I still have a few other basses with me, including the Chris Squire Special Edition Rickenbacker, of course. Then a silver Lakland, a really good bass that I played a lot on the Magnification album.
There is an early seventies Fender Jazz Bass and the Gibson Thunderbird, which I often used on the Tormato album and my first solo album. There is also a fine Rickenbacker eight-string bass built by Chicago-based guitar maker Eric Ranney, a Warwick Streamer Fretless, a green Meridien four-string, a Tobias five-string and a Tobias four-string with an extra-long scale, which I especially like Mike Tobias had it built.
I had asked him: "Why does everyone want to play a five-string to get down to the low B? Why doesn't anyone build a four-string with a longer neck that does the same job? "So he built this bass for me, which is tuned to B - E - A - D. Although it looks a bit weird with its five extra frets, it's easy to play because it's very well balanced. It sits in the middle of your body so that you can get to the end of your neck.
I used this bass in the Ahmet Ertegun Tribute Show in London, where I played with Keith Emerson, Alan White and Simon Kirke as the opener for Led Zeppelin. We have z. B., Fanfare For The Common Man ', a piece that is in C. So I tuned this bass to C and it sounded perfect! In 2004 we played an acoustic tour with Yes, on which a Martin acoustic bass served me well.
After using Sunn and Marshall amplification for years, I've been an Ampeg player since about 2000. My normal stage setup consists of two SVT-II-Pro tops and two 8 × 10 SVT810E boxes on the right and another 8 × 10 box with an SVT300 power amplifier on the left side of the stage.
All my effects, which are managed by a looper system, are in one rack. The effects are a special bass tremolo built for me, a Maestro Fuzz, a t.c. electronic stereo chorus / flanger, a Lexicon LXP-5 multi-effect, a Roland SRV2000 digital reverb, an MXR 1500 delay, an MXR octave and an ADA preamp that was specially programmed for the low notes of the Tobias four-string.
On the floor near my vocal microphone is a pedal board that I can use to call up various combinations of effects that my bass tech Richard Davis programmed for me. Incidentally, a button activates the combination of a Moog Taurus and a Jutron bass pedal, which is amplified via an SWR SM-400 top and an Energy 2 × 15 box.
From guitar & bass 02/2009
---
Get the free Chris Squire Special with two bass masterclasses! Simply click on the e-dossier ...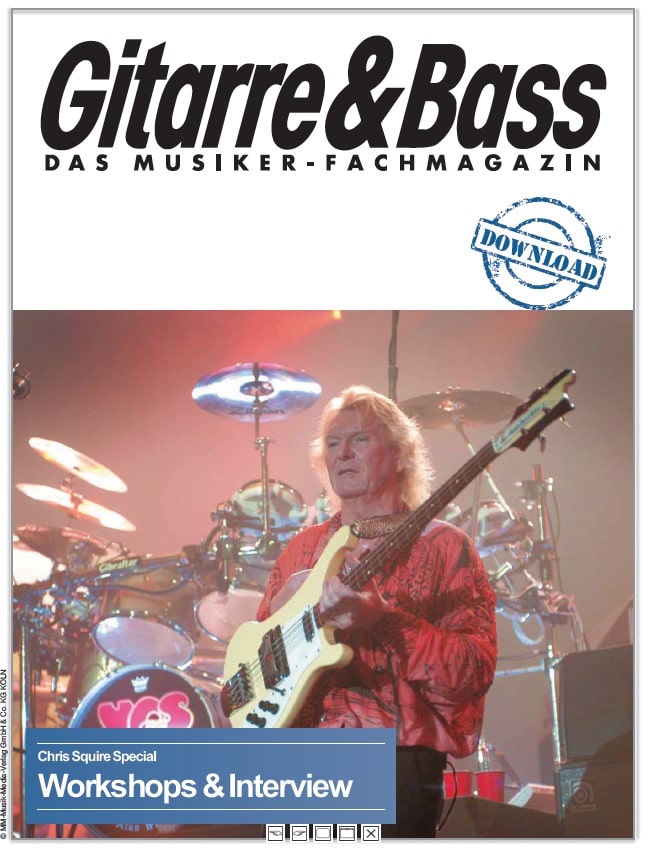 ---
Back to overview
6 questions for Chris Squire
In 2008, Chris Squire could look back on an almost unbelievable 40 years of Yes - and at the same time celebrated his 60th birthday. We visited Chris at his home in London to learn more about his long career and the origins of his sound.
1. When you were learning bass, was Jack Bruce an influence?
No, not really. I think John Entwistle (of The Who) was the biggest influence on me. I was lucky enough to be around 15 when the Beatles hit their breakthrough and I saw and learned from all these amazing bass players like Paul McCartney, Bill Wyman, Jack Bruce and John Entwistle from the start. At the same time, Motown music was also very popular in England, with bassists like James Jamerson and Carol Kaye ... all those great Motown hits where the bass was mixed so unusually loud. This music has had a huge impact on me too.
I also got to see Jack Bruce regularly when he played with the Graham Bond Organization at the Marquee, and I was always there when The Who played there.
When I first saw Entwistle with his Rickenbacker, I thought his sound was just fantastic. This was exactly the trigger why I got myself such a bass. I dropped out of school when I was 15 and worked at Boosey & Hawks, a music store on Regent Street that imported Rickenbacker instruments to England at the time. John Entwistle got the first Rickenbacker bass to come to England, Pete Quaife (of the Kinks) got the second - and I got the third!
The unpolished Rotosound strings were also an important part of that particular sound. John Entwistle was the first to discover it, was the company's first endorser, and popularized it.
Back to overview
2. When did you first realize that you had created your own sound?
Good question! Yes, it took a certain sequence of coincidences and events before I was finally publicly noticed as a bass player. Perhaps the most obvious moment occurred while working on Yes' s second album, "Time And A Word". We were working with a producer called Tony Colton, who himself played in Head, Hands & Feet, a kind of British version of Blood, Sweat & Tears that Tony had admired.
Head, Hands & Feet had just released an album that was advertised as having to be listened to with headphones. Tony decided to mix our album with only headphones.
The mixer that they had in the advisory studio back then was not up to date with the latest technology. B. his headphone output sounded very thin and tinny. Eddie Odford was the sound engineer, and Tony kept telling him as he pressed the headphones to his ears while he was mixing, "More bass, more bass!" Because he could hardly hear any bass on his headphones.
The usual monitors in the control room were also running at the same time and I was able to follow exactly how the bass got louder and louder. Sure, I liked that very much - but such a sound was very unusual for that time. Steve Howe was already a member of Yes at that time, although he had not yet played on the album itself. He sat next to me in the control room, looked at me and said "The bass is going to be f * cking loud, isn't it?". And I replied, "Steve is the producer, he'll know what he's doing."
In the end, Time and a Word 'was completely mixed - with a really loud bass. A HiFi magazine that published a review of the album at the time wrote "The best sounding album ever recorded. Five stars !!! "When we were recording 'The Yes Album', Eddie Offord, who is now producing us and who had read all these articles in hi-fi and audio magazines about our previous album, made sure the bass was great too was loud and everything else in the mix was placed around it.
Back to overview
So I and my sound became known more by chance - because of a bad headphone output on a shabby, old mixer! By the time we recorded Fragile, word had got around that our bass had to be mixed very loudly - and that this is the typical bass sound of Yes. Another aspect that was just as important for the development of my bass sound was (Yes-Drummer) Bill Bruford and his peculiar style. He came from jazz and didn't play like most rock drummers of the time.
His bass drum wasn't leading the beat and so the bass had to be on the beat on these early recordings while Bill kind of danced around the beat with his drums. So it wasn't that the bass and drums were playing tight together. Bill liked this because it sounded more jazzy and gave him a sound that was different from the other rock drummers.
3. How did the overall sound of Yes come about?
The only band that could possibly be compared to you at the time was Genesis. I read once that this was called the sound of the elite private schools. Is that correct? Well, most of the Genesis guys actually went to private schools, as did Bill and me. Maybe this led to both bands adding symphonic elements to their sound, but I'm not sure.
Steve Howe was a well-known guitarist even before Yes and also had an excellent reputation as a guitar technician. Rick (Wakeman) was fully educated at the Royal College of Music and Jon, who came from a very different musical background, at least had a work ethic that matched ours. So one part fitted in with the other - and that's where the typical Yes sound came about.
Back to overview
3.1.Was Andrew Jackman, with whom you played on Syn, also an influence?
Yes. Andrew and I have been close friends since we first met in the sandpit when we were five, and we later joined the church choir of St. Andrew's Congregation - perhaps the best choir in England. Andrew later orchestrated "Fish Out Of Water" and his youngest brother Gregg was the sound engineer for these recordings - as well as "Chris Squire's Swiss Choir", an album of rocking Christmas carols released last year. And the guy who conducted the choir on that album was Jeremy Jackman, the middle one of the three brothers.
He was a member of the King's Singers (a famous English a cappella group) for more than ten years. As you can see, the three Jackmans were very musical brothers. Her father, Bill, was also a member of the London Symphony Orchestra and was the one who played the clarinet solo on the Beatles' song, When I'm Sixty-Four, by Sgt. Peppers… 'had played. Andrew and his brothers were my best friends. At the time the Beatles became known, Andrew and I played together in my first band.
Quite often we would hang out on the piano in the Jackmans house, listen to Beatles songs and Andrew would help me hear McCartney's bass lines. He was a great friend and turned into a really good arranger. I was blown away when I heard in 2003 that he had died of a heart attack. A big loss for me and the English music scene.
Back to overview
4. Yes was very successful with "The Yes Album", but especially with "Fragile" and "Close To The Edge". But when, Tales From Topographic Oceans 'came out, the critics accused you of overproducing, inflating and pompous. How do you feel about it today Were these critics right?
I have to say that the negative reviews at the time didn't really surprise me. I thought that we really put too much on people with this album. We had a lot of fun on 'Close To The Edge' - with one long track on page 1 and two longer tracks on page 2.
Then someone suggested, Topographic Oceans should be a double LP with four long pieces, one per side. I didn't like the concept from the start, it was just too much for people! But you decided differently and then I did my best to make the sound as tasty as possible. The album was aimed at the die-hard, incorrigible ProgRock listeners who could find the time to listen to it in full.
And I think these listeners got a lot out of that for themselves. But for those who wanted more songs like "Roundabout", the new album was certainly a step too far in another direction.
4.1. Do you think today that this album ruined your career?
I always thought that if we hadn't made this album, but had developed more in the more poppy direction and orientated ourselves a little more to what happened back then in America with bands like Styx or Foreigner, then we would certainly have been much more successful in the short term could be.
But maybe we would have perished with all these bands at the end of the 70s. But because we didn't orientate ourselves on pop at the time, we always had a foundation from which we could start over again at any time.
In the eighties we went almost the other way around and played more poppy stuff when (guitarist) Trevor Rabin was in the band. So - all in all, this much discussed album certainly made for a more interesting career and maybe a longer one, because we just didn't become predictable.
Back to overview
5. What do you think of the resurrection of prog rock?
There are some very good bands in this genre again. Oh yeah. For example, I really like the band Elbow. I'm not sure if it's prog but it sounds good. Also, I became a huge fan of the Red Hot Chili Peppers after seeing them live a few times and realizing how amazing they really are.
An incredibly good live band with a great drummer, Chad Smith. I've always believed that a band is only as good as its drummer, and Chad is the kind of guy who drives the band and makes sure it's high quality. It's funny that John Frusciante and I knew each other from when I lived in L.A. He was friends with a friend, Vincent Gallo, and used to come to my house to jam with me.
But I didn't know then that he was playing with the Chili Peppers. When he got back in there and I saw him again after a few years, it was really a big surprise to find out that it was the same guy who had made music with me in my living room back then.
6. How do you see yourself as a bass player? Do you feel like you will leave an important legacy for the younger bass players?
I was just lucky enough to be able to play at a timing that suited my style of play. In addition, I have always managed to find my role in it, despite the further development of the music. It's not easy to stay active in the business for 40 years as a band or as a solo artist, and I'm grateful and happy that I'm still there and can do what I love to do best.
I think I'm quite a source of inspiration for some of the younger bass players, and I know that if Yes goes on tour again, there will be a lot of 15-year-olds in the audience who want to deal with what defines Yes and what I am Bass player. Hey - that's a good feeling that I'm very grateful for!
Interview: Peter Chrisp
Back to overview
Steve Howe, Alan White, Jon Anderson, Chris Squire, and Rick Wakeman doing the soundcheck:
Chris Squire discography
Solo albums:
1975: Fish Out of Water
2007: Chris Squire's Swiss Choir
As a guest musician (selected albums):
1973: Eddie Harris - E.H. in the U.K.
1977: Rick Wakeman - Rick Wakeman's Criminal Record
1987: Esquire - Esquire
2002: Pigs and Pyramids - An All Star Lineup Performing the Songs of Pink Floyd
2011: Steve Hackett - Beyond the Shrouded Horizon
2012: Billy Sherwood & The Prog Collective
2015: Steve Hackett - Wolflight
With YES (studio albums):
1969
Yes
1970
Time and a Word
1971
The Yes album
Fragile
1972
Close to the edge
1973
Tales from Topographic Oceans
1974
Relayer
1977
Going for the one
1978
Tormato
1980
drama
1983
90125
1987
Big generator
1991
union
1994
Talk
1996
Keys to Ascension
1997
Keys to Ascension 2
Open your eyes
1999
The Ladder
2001
Magnification
2011
Fly from here
2014
Heaven & Earth