How did mankind develop mining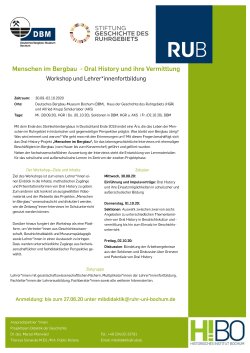 Workshop "People in Mining - Oral History and its Communication" 30.09.-02.10.2020
Under the title "People in Mining - Oral History and its Communication" takes place, organized by the Ruhr University Bochum, the Foundation History of the Ruhr Area and the Bochum Mining Museum, from 30.09.-02.10.2020 a workshop for representatives from history, history didactics and museum education as well as teachers will take place.
The aim of the workshop is to present and discuss historical, historical didactic and museum educational perspectives on the subject of "Oral History". On the second day there are sections on the use of oral history in history lessons Discussion on the potential of oral history for teaching history.
Further information can be found on the flyer.
Lectures
Theresa Hiller, Marcel Mierwald: "MiBLabor. Digital historical learning with eyewitness reports on German coal mining" - Workshop with asynchronous and synchronous phase as part of the RUB Teachers Day digital from 26.-31. October 2020.
Theresa Hiller: "People in Mining and Migration. Oral History Interviews as Sources for Migration History" as part of the Summer School "Migration, Inclusion and Marginalization. Transnational History (s) of Mobility" on September 21, 2020.
Theresa Hiller: "MiBLabor. Digital learning with oral history interviews on coal mining" as part of the digital history didactic research colloquium of the University of Duisburg-Essen on June 16, 2020.