What is the future of the graduate school
The measurement technology experts of the future come from Braunschweig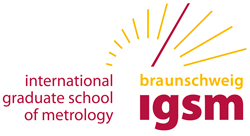 Logo of the International Graduate School of Metrology
Joint press release from the Physikalisch-Technische Bundesanstalt and the Technical University of Braunschweig
The Physikalisch-Technische Bundesanstalt (PTB) and the Technical University of Braunschweig will continue to work closely together in the future to promote and support doctoral students in metrology, the science of measurement. On January 1st, 2014 the TU Braunschweig and the PTB founded a joint graduate school under the name Braunschweig International Graduate School of Metrology (B-IGSM). The graduate school offers doctoral students in electrical engineering and information technology, physics, mechanical engineering and life sciences a well-founded metrological education as part of a structured doctorate. The range of events includes lectures, seminars, themed workshops and international summer schools. The B-IGSM follows on from the tradition of the earlier graduate school of the same name, which was operated by the TU Braunschweig with the participation of the PTB with financial support from the state of Lower Saxony. Since it was founded, around 50 doctoral students from 20 countries have completed the graduate school and graduated with a doctorate and an IGSM metrology certificate.
"For quality assurance and precision in industrial production, companies need capable employees," says Professor Meinhard Schilling from the TU Braunschweig, spokesman for the B-IGSM. "We train such employees here in Braunschweig." The idea of ​​the graduate school: PhD students who research topics related to measurement technology and measurement accuracy are accompanied and specifically supported by the B-IGSM during their doctoral thesis. Scientists from PTB and TU Braunschweig jointly supervise the doctorate and teach metrological concepts and principles in courses.
"The fact that so many departments work together at B-IGSM shows that measurement technology and accuracy are real cross-sectional tasks that will become even more important in the future," said Dr. Corinna Kroner from PTB, course director of the B-IGSM. The graduate school has an expressly international focus. Teaching is in English, and around half of the doctoral students come from abroad. "What you get here is unique," says Schilling, "the linking of basic academic research at a university with the targeted science of PTB with a focus on metrology is a unique selling point of the B-IGSM." The new cycle of the Courses. Another summer school with lectures by renowned scientists and student working groups is planned for mid-October in the International Haus Sonnenberg in the Harz Mountains. The B-IGSM is part of the Braunschweig Metrology Initiative, which will strengthen and further expand Braunschweig as an international research region for metrology, together with the research institute for nano-metrology currently being set up at the TU Braunschweig and PTB.
Further information at igsm.tu-bs.de
Contact
Prof. Dr. Meinhard Schilling
Spokesman for the IGSM
Institute for Electrical Metrology and Fundamentals of Electrical Engineering
Technical University of Braunschweig
Telephone: (0531) 391-3866
Email: [email protected]
www.emg.tu-bs.de
Dr. Corinna Kroner
Course director of the IGSM
Phone: (0531) 592-3090
Email: [email protected]
Electrical engineering, metrology, partners, physics